Nowadays, over 85% of prostate cancer procedures in the USA are performed robotically. Being at the forefront of innovation, Metropolitan Hospital is not only equipped with the latest state-of-the-art da Vinci system, the da Vinci Si, but also has one of the most experienced and qualified teams of Greek robotic surgeons, who perform the largest number of procedures in Europe annually.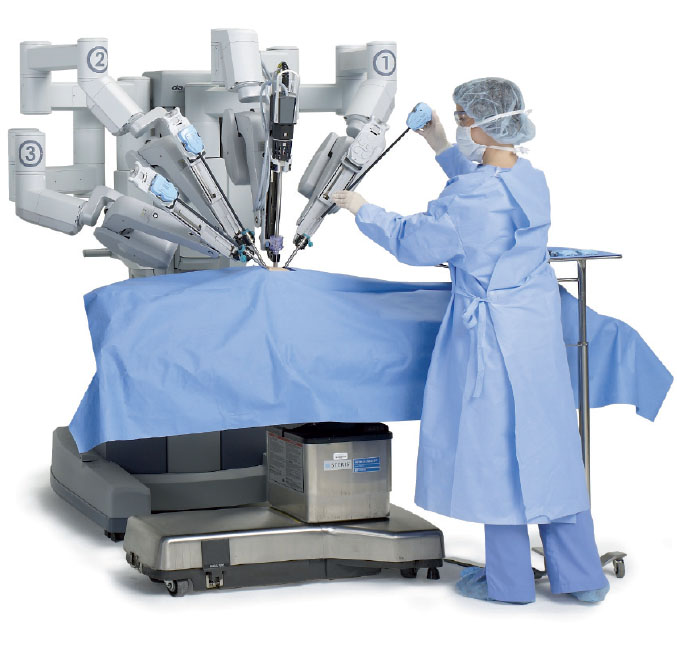 ROBOTIC SURGERY BENEFITS IN UROLOGY
Greater surgical precision
High-definition 3D images
Elimination of hand tremor
Access to hard-to-reach areas from multiple sides
Reduced blood loss
Elimination of large surgical incisions for better aesthetic results
Minimal risk of infection
Shorter hospitalization
Faster recovery and return to normal activities
ROBOTIC SURGERY APPLICATIONS IN UROLOGY
Urology has been the main field of application for robotic surgery worldwide. Due to the unique benefits they offer, robotic surgery applications in Urology have been expanding continuously.
The robotic system is a tool that offers the possibility of nearly painless surgery, with less bleeding and better results. What makes the difference is the experience of the surgeon. If we were to compare two very experienced surgeons – one who is good in open surgeries and open who is good in robotic surgeries – the robotic surgeon would have a competitive edge, as they operate a tool that allows them to achieve better results and offer greater benefits to patients.
ROBOTIC UROLOGICAL PROCEDURES
Urinary tract obstruction, kidney tumor/cancer, urinary bladder cancer, prostate cancer: When a urinary organ (kidney, ureter, bladder or urethra) or a reproductive system organ does not function properly, it may be due to various reasons. It is important that patients discuss their symptoms with their doctor. The type of treatment or procedure usually depends on the stage of the disease and the general condition of the patient.
Urinary tract obstruction / Ureteral stricture: The kidneys are two small organs that produce urine. They are located behind the abdomen, on either side of the spine. The kidneys help remove toxins and excess liquid from the body, and assist in maintaining proper sodium, potassium and acid-base balance. A urinary tract obstruction may not even manifest any symptoms at all. Many people discover they have an obstruction during the course of another medical exam. Persistent abdominal pain or changes in urination pattern may constitute symptoms. A urinary tract obstruction may occur on any part of the urinary system. It may cause serious side-effects, such as infections and kidney stones. If left untreated, an obstruction may cause chronic pain and damage to the kidneys. The most common type of urinary obstruction is the ureteral obstruction. The stricture may be located low, close to the bladder, or high, towards the kidney (known as ureteropelvic junction stricture).
Obstruction close to the bladder: The ureters are tubes that transfer urine from the kidneys down to the bladder. Normally, one ureter drains only one kidney, but sometimes, there may be two ureters for one kidney. Ureteral obstructions may be caused by many reasons, such as scar tissue due to stones, previous surgery or pressure from neighboring, non-functioning organs. The surgical procedure to correct a ureteral obstruction close to the bladder involves reimplantation of the ureter into the bladder.
Ureteropelvic junction stricture in children and adults: This stricture is located at the point where the ureter connects to the renal pelvis (ureteropelvic junction or UPJ). In children, this is the most common type of urinary tract obstruction, but may possibly not be detected before reaching adulthood. The UPJ is the junction where the funnel that collects the urine from the kidneys meets the ureter (the tube transferring urine to the bladder). In UPJ stricture, the obstruction is only partial. The urine is drained from the kidney, unless the kidney produces more urine than may be drained from the renal pelvis to the ureter. This results in build-up of urine in the kidney, causing hydronephrosis and pain.
Kidney tumor/cancer: • A tumor may be benign (non-cancerous) or malignant (cancerous). Kidney cancer may develop in the small tubes of the kidney. These tubes are located in the middle of the kidney, where the urine is collected after blood filtration. The most common type of kidney cancer is renal cell carcinoma. Kidney cancer is managed in various ways, including monitoring, freezing or heating or the tumor, or surgical excision. If a surgical procedure is recommended, it may be possible to save the kidney by only removing the tumor. However, this depends on the size and location of the tumor. This procedure is known as a partial nephrectomy. When the entire kidney is removed, then this is known as a radical nephrectomy. Unfortunately, kidney cancer does not manifest symptoms very early. However, you must consult your doctor if you are experiencing the following symptoms:

Blood in urine
Sense of weight on the abdomen
Unexplained weight loss
Pain in the ribs
Loss of appetite

Urinary bladder cancer: The bladder is a round organ that collects urine. Urinary bladder cancer occurs when cancer cells develop from cells that cover the interior of the bladder (urothelial cells). These types of cancer may invade the bladder wall (invasive). The removal of the entire bladder is known as radical cystectomy. After a radical cystectomy, the urine is collected either in a pouch that adheres to the skin (stoma) or an orthotopic neobladder, provided this is possible based on the location and stage of the bladder cancer. An orthotopic neobladder is a new bladder that is constructed from the patient's small intestine. It is located in the same position and operates just like the old bladder, with full urinary continence.
The most common symptoms of bladder cancer include:

Blood in urine (hematuria)
Pain with urination
Frequent urination
Feeling of urination urgency with no output

Prostate cancer: The prostate gland is an organ of the male reproductive system that produces fluid for the sperm. Prostate cancer begins when cells in the prostate gland start to grow uncontrollably. Worldwide, prostate cancer is the second most common type of cancer among men, behind lung cancer. The removal of the prostate gland is known as a prostatectomy. During a radical prostatectomy, it is important to completely remove all traces of the cancer, while preserving urine continence and erectile function. In its initial stages, prostate cancer does not manifest any symptoms.
When the symptoms appear, though, they may include:

Frequent urination
Difficulty urinating
Trouble starting and stopping while urinating
Decreased or interrupted flow of urine stream
Pain or burning sensation during urination
Blood in urine or sperm
ROBOTIC UROLOGY UNIT (DA VINCI)
9 Ethnarchou Makariou & 1 Venizelou Streets, GR-18547 Neo Faliro
+302104809150, +302104809000